Yahoo on Thursday officially declared that their systems were hacked or by a state-sponsored hacker and "at least" 500 million were affected and has disclosed that information like name, email address, password, security questions and answers, address, telephone number and such other information. But they have assured that information like bank details and such other details were not compromised. It is considered as the biggest hack till date. Yahoo has also announced that they are contacting all the affected accounts by sending them a letter but it is also advisable to avoid suspicious emails and not to click on some links that seem tricky. So to know whether your account was affected or not, you must keep an eye for the following letter in your yahoo mail: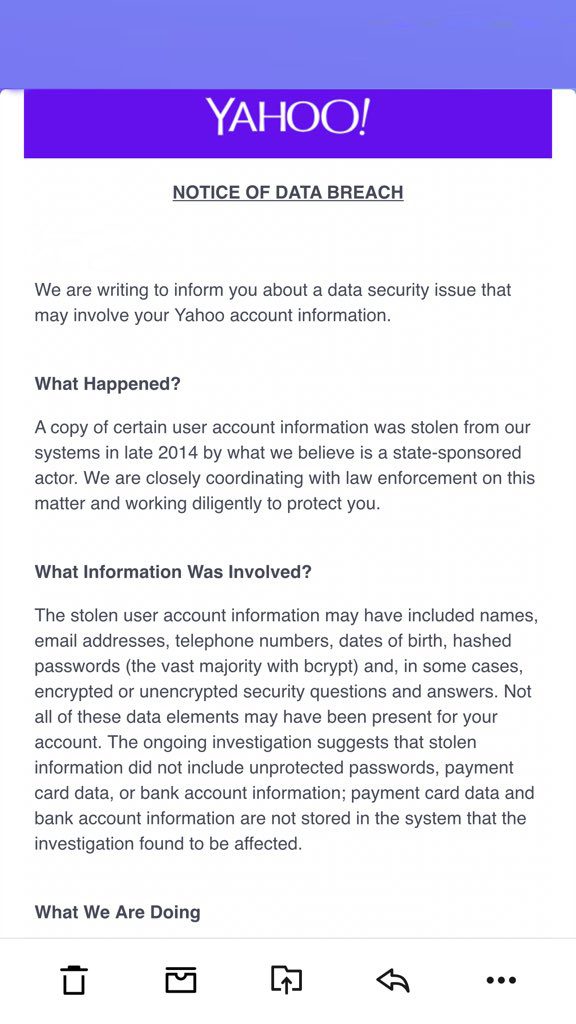 Well, this time, Yahoo declared because the hack was huge but what if small hacks weren't disclosed and your account details were compromised to some third party. Well, first thing is you need to do is check whether your account or email was owned in the past or not. And then you need to check for the future events. Both of such things can be done by checking your emails in the website Have I been Pwned which will report all the past breaches as well as allow you to subscribe for future breaches where you will get notifications when your information is compromised.
Meanwhile, to all the account holders of Yahoo who have got the mail or not, it is essential that you change your password and enable two-factor authentication. Thus, no one will be able to use the account without the access code which you will get in the mobile number you have shared and that number shall not be accessible to some unworthy persons. Well, it is always said that precaution is better than cure so don't forget to check all your mail ids in the mentioned website andalso look out for the mail from the Yahoo for your account.