Entrepreneurs and Marketers are well aware of the fact that they need to keep their businesses and websites updated as well as optimized with the advancing competition of the Digital World. But, it is not easy to analyze and use the data and make correct decisions. Well, there is a reason people say, "Half of the Money spent in Marketing is not profit making, and the problem is marketers don't know which half." To come to the marketers and entrepreneurs rescue, Google has introduced a tool named Google Optimize with the tagline, mentioning which half of the marketing is actually working. Google Optimize is a free version of Google Optimize 360 which was released earlier this year, under the Analytics 360.
Google Optimize will be available to all the users globally from next month, Google has not mentioned any date but if you wish to use the tool, you need to Request Google for an invite on their Sign Up Page of Google Optimize and they will send you a mail when it will be available. Now let's understand how you can use Google Optimize. On your website, there might be lots of data and with increasing traffic, it is essential you access the data and make decisions that will optimize and personalize the whole experience of the customers. With Google Optimize you can create experimental pages within minutes, yes the process which takes days can be done in minutes. You can create a test page with just a button called 'edit' and create a page with desired content, images, layout with a single line of code. So you won't be needing to recode the whole page and set up tests. You can create an A/B Split test or redirect customers to the new page and then compare the results or goals. The best part, Google Optimize can be synchronized with Google Analytics account and its metrics so that you can get detailed reports and you won't even need to make the reports for comparison.
If you have Google Analytics account, you might have got a mail similar to this: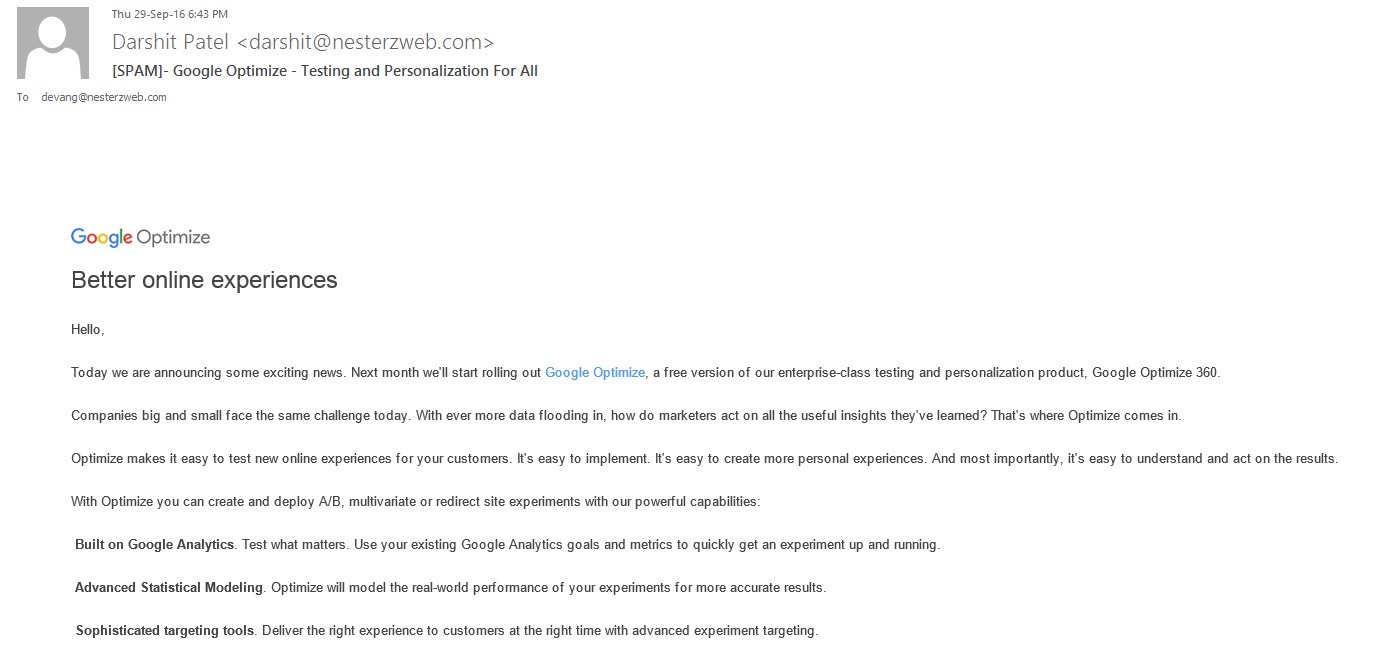 The mail was rolled out on 29th September to all the Analytics account holders. You can also request the invite from the mail itself. Thus, you can check conversions and analyze the pages of the websites easily with Google Optimize. You can easily recognize which part of the website is more user-friendly and what time is the best to come up with appropriate content in front of customers for better conversion.
The main thing that is still unclear is the actual difference between the Google Optimize 360 (Which is a Paid Tool) and the Google Optimize. Right now they are saying that Google Optimize 360 is a better option for larger enterprises and they will benefit more from it and with Google Optimize 360, you can run multiple tests simultaneously and also get options like Cross Platform Sessions comparison with the unique user id. So, let's wait what drawbacks the free tool Google Optimize has and meanwhile if you wish to optimize and digitalize your business, contact Nesterzweb for better Digital Marketing Approach.