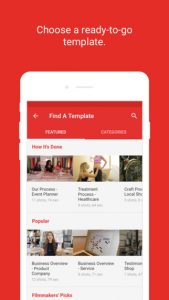 Whether you are a Barber or a Baker, whether you have a Provision store or a Boutique now you can make an Advertisement on YouTube on your own, edit it on your own  and also launch it on your own. The easiest part is you don't even need a Camera or a Video Recorder to shoot it, you can directly shoot it from your Phone and edit it from there.
The App is named YouTube Director and it you can publish an Ad with it in 3 simple steps. Right now the application is launched only for iPhone and is accessible only to people in the US and Canada. The steps and what you need to do in that step is mentioned below.
Step 1: Select a Template
Don't worry it is no rocket science you just need to choose a template that can be best suitable for your shop or your individual talent. The first thing you need to decide is what you want to convey with your Ad because there are four Ad formats available from which you can choose one. They are:
Introduce Your Business
Highlight Your Product
Create Promotions
Educate your customers
Just choose your format Choose a Template according to your business and you are set for the next Step.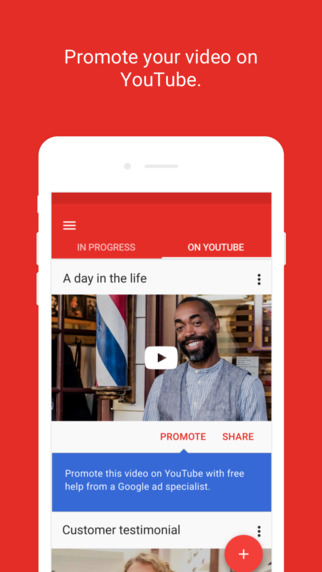 Step 2: Shoot and Edit:
Once you are done selecting the template the Application itself becomes the Director of your Ad. As soon as you start to shoot the video the App gives step by step Guidance about what you need to do next and what you need to say in your next step. Not only the Guidance but once you are done shooting the Ad, you can edit the Ad by adding Text, Animations and Music to make it look professional and appealing. Thus, you are done with your ready to publish Ad without a director, an actor or promoter and without a professional video recorder. All you need is an iPhone and YouTube Director App in it.
Step 3: Launch your Ad
In this step, YouTube helps you understand your potential client area and also helps you select a proper plan and budget for your Ad. You can choose whom to Target and what area to Target as well. You can also ask for the online help of a Google Adwords Expert to guide you through this Process that also free of cost. And once you done with the selection just hit the launch button and you are up with your Own Video Advertisement Prepared and Shot Exclusively by YOU.
Isn't it too easy like 1, 2, 3…? In this era of Video Marketing and Digital Marketing YouTube was, is and may be will remain an Unbeaten Leader in the Video Optimization field. So it is advisable to promote your business on YouTube for increased vies and traffic amongst your Target Audience that also at least possible cost. Since we all know that Video Marketing is the next stage of evolution in the market and now with Virtual Reality (VR) introduced in the market, the field has just become Ginormous and with endless potential applications. To get help in Video Marketing just visit Nesterz's Video Marketing section or you can select a Campaign Video Marketing in the Select campaign section of Request a Quote section.