Google has been pretty aggressive nowadays improving their Adwords and are willing and even striving to provide the best to their customers. Their upgrades are pretty impressive and are trying to stay the market leader they are and that also with the help of Innovation. They promote their users to be customer friendly and they also are doing the same. Their customers are the advertisers and they are providing every possible option to them to advertise in best possible manner. Recently they announced a new add for the advertisers which seems quite the opposite of Facebook messenger bot. The response assistant or the Messenger Bot from Facebook is the tool designed by Facebook to help businesses to connect with their customers via Facebook.
Read More about it here: 11,000 Bots Introduced In 3 Months by Facebook and More to Come
Well, now Google is also doing the same but the concept is quite like the vice versa of that of the Facebook. The advertisers can use the Messaging option to connect to the customers where the customers can ask questions to the businesses regarding their product or service via Messages. Text Messages are still very much famous for professional conversations and Google wishes to capitalize the same. Where in Facebook the Businesses has the option to developed pre-written responses to their customers, here Google provides customers to choose from some of the pre-written messages to ask for the business and then get more information regarding the concerned subject. Like if you wish to do the reservations for Restaurant, all you need to do is select the message and then get a response from the Business regarding it. This concept is still in testing modes and few organizations like Travel Pass Group, Anyvan, Auto General and other few selected organizations are using it. They are pretty happy with this update and you can also use it for your website or business. Google has kept it pretty simple for all, we are sharing one screenshot for the procedure to add the Message Extension, just go to your campaign, select Ad Extension, select Message Extension and fill up the details. It is that simple and it is free of Cost. So don't leave any stone unturned and do it for your Adwords app today.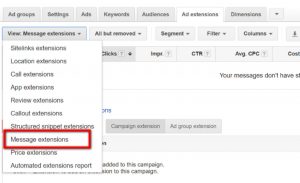 If you wish to get your communication and content designed or are interested in Paid Marketing for your business or wish to excel digitally without any of the burdens, just contact us and we will do the rest for you.