On 15th of July, Google made an interesting announcement to make you vote properly and let your voice be heard this election. The update is made in the Google application to make your voting experience easy and effective. No matter every republican must vote as it is their right and also their duty to contribute towards the growth of the country. So if you need any sort of guidance regarding the elections, just ask Google.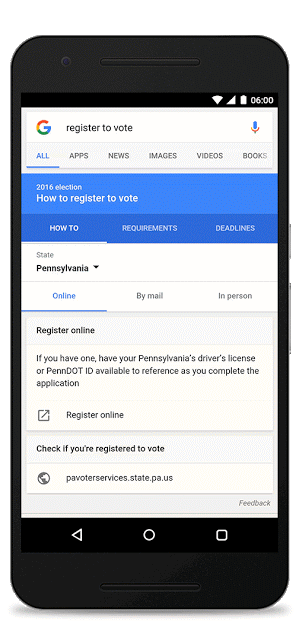 This November, Americans all across the country will line up at the polls to cast their ballots for the President of the United States. But each state has different rules and different deadlines so the voting might be a little confusing. So from this Monday they have added a tool to the application that will make the registration process more easy and quick. This will lead you to make your vote and voice count. It is pretty simple now on how to get help from Google on elections, next time when you ask a query regarding elections like "Register to Vote" or any other query, you will find step by step guide for each state of the country. So you can easily register your vote and you will find all these information right on top of the Google Search no matter which city or state you belong to.
 This week where Republican National Convention has started and also a period of the Democratic National Convention, Google will help you with the full list of the events, nominees and also the list of the Speakers in each area. You'll also find a live stream video on YouTube regarding the same and also some alerts and notifications on the social media platforms, so you never miss a bit of the election, their speeches, parties and also what the public is saying regarding the elections. Thus, this is what Google has made to keep you posted and drawn a helping path for you to make it easy for you to make the right decision regarding the Ballot this November. Google is trying to sync each of their platforms to make your overall voting experience pleasant and clear. So if you have any doubt or confusion, just ask Google and be clear about every detail. To get the further updates regarding the world of Digital Media and Marketing just stay tuned on the Nesterz BlogSpace and get all these fun details regarding the world of web. Also, don't forget to check out our other posts and share it if you feel like sharing it.