There are basically two types of Keywords, Head keywords, and Long Tail Keywords. They are explained below:
1 Head Terms
The core search term that comprises of one or two words like SUV Cars, Insurance, Reebok and other such terms. They are generally the top 10,000 or around 18.5% of to total search are from head terms.
2 Long Tail Terms
As the name suggest, they are long tail searches that comprise of more than 2 words. Like SUV Cars in New York, Luxurious SUV Cars and other such examples. They consist of more than 70% of search terms. The Demand Curve will help you understand the graph very clearly.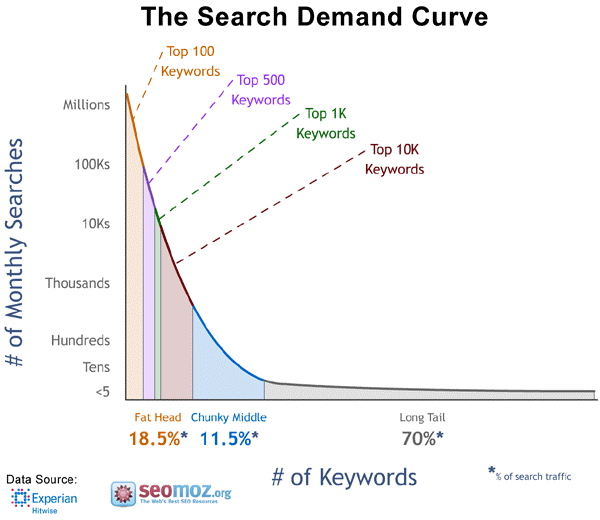 So, to rank on Google, you need to do some deep research for your keywords. Five Keyword Research Technique that can help you decide the Keyword you need to focus are mentioned below:
1 Target the keyword phrases that your domain name has the potential to rank on:
If your website is having very high authority like some news website as famous as CNN which has DA of 94, then you can write on anything. But if you are not having high DA, just focus on some phrase that you can focus on, How to choose a better Keyword phrase? The answer is pretty logical, choose the keyword that has more clicks and fewer results. This will ensure that you don't face competition and also get the desired topic.
To have a higher chance of ranking on Google first page, below is the breakdown chart that will help you decide the perfect keyword to focus on:
Here is the breakdown of what different domain authority sites can rank for.
Domain Authority Less Than 30 = Keyword Phrases with Less than 50,000 Google Results
Domain Authority 30 to 35 = Keyword Phrases with Less than 100,000 Google Results
Domain Authority 36 to 40 = Keyword Phrases with Less than 250,000 Google Results
Domain Authority 41 to 45 = Keyword Phrases with Less than 500,000 Google Results
Domain Authority 46 to 50 = Keyword Phrases with Less than 1,000,000 Google Results
2 Heading for some Topic Authority:
If you are focusing on some certain niche, like marketing. Try to add as many contents as possible on the same topic and then look out for the Topic Authority that Google will provide you for your blog. The first result with some definition of the certain topic you see on the top of the Google is the Topic Authority approved for the topic. So focus on such keyword and work on it. Once you get the Topic Authority, choose wisely and enjoy the traffic.
3 Choose the Topic or Research the whole Niche:
If you are predetermined on to which topic to write on, do the searches that are related to that topic and focus that has the highest searches and least results and if you are not clear, just put some time and select a niche you are comfortable with and do the research on the whole niche.
4 Focus your Keyword Phrase in the Title of your Blog:
The title is the Greeting card of a blogger that makes the user click on it, a successful Title must have the keyword and apart from it, try to include a Number in it, a title with number leads to a higher ranking. Consider the One I have put in the article. Also, make sure the title contains the major message in the first 50 characters or first 6 words as Google Cuts the title after 57 characters.
5 Use Power Word as a Superlative to make your Title Unique:
The words like best, biggest, important and other such words add a whole more clickability to the title than that of the ones that do not have such things. Again look at the Title I have written and you will know exactly what I did to make you click on the Blog.
So, above were the five tactics that will help you get a good Keyword Rich content and help you rank well on Google.